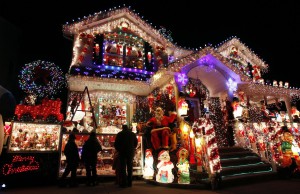 With Christmas just a few weeks away it's time to start thinking about holiday lighting. Whether you intend to have a house that can be seen from space, or are planning a more modest display, the holiday lighting trends for 2014 are sure to have something for everyone.
#1 Bigger is Better
Giant ornaments have been a staple at large, corporate displays and now they are becoming more popular for residential homes.  This trend is great for a whimsical 'toy shop' look.  The prices on these decorations range from the very cheap to the very expensive.  These displays are simple to set up and usually don't require a ton of electricity be used.  So if you are the type who wants to be festive, but doesn't want to spend hours stringing up lights or if you are someone who can't bare the dreaded take- down in January, these displays might be a good fit for you.
#2  Interactive Displays
Amazing  technology is available that allows people to tell holiday décor what to do. It can be great fun and enable people to immerse themselves in the magic of the season . Interactive elements may be found on a Santa set, an illuminated Christmas tree or a holiday light show. Personal messages and lights that interact with music or crowds is a great way for the tech -minded individual to show off their Christmas spirit.
#3 LED lighting
LED lights are energy savers and, every year, more and more people are making the switch.  There are so many different styles and colors to choose from, this is probably your best bet for those who want to express their creativity without breaking the bank.