Winter is not even here yet and Long Island has had two snowfalls. While some people revel in a winter wonderland, snow and ice can have damaging effects on your trees and shrubs.
This year we had a very late fall—there are still some leaves hanging on to the trees. When you add snow and ice to the mix it can be very hazardous. The weight of the snow and ice on leaves can bring down branches much easier than if they were bare. The high winds of a Nor'easter combined with ice and snow can also bring down branches, even entire trees.
Old and sick trees are most likely to be negatively affected by the winter weather, but harsh enough weather can bring down almost any tree. Here are some steps you can take to mitigate the damage winter can bring.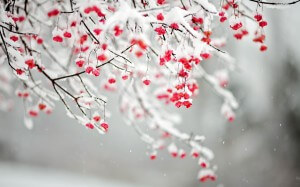 If you look closely enough you can spot a potentially hazardous tree in your yard. If you notice any signs of damage or sickness it may be time to call in a professional to prune. Trimming potential problem branches in a controlled environment can prevent damage to your home or property. Careful pruning can also protect your tree from toppling over.
When a storm hits and you notice broken or weakened branches you shouldn't wait to call a professional. If your area just received a light snowfall take the time to gently remove snow from branches before it freezes and adds extra weight. It is important to avoid shaking branches that are coated with snow and ice. The ice cover makes limbs brittle, and shaking a frail branch can do more harm than good. Additionally, knocking off the weight may cause the branch to "snap back," potentially damaging the circulatory system. The best solution is to allow the branch to melt naturally.
Now is the time to take preventative measures to protect your trees from winter storms. However, sometimes the worst does happen. If you need emergency tree removal service you can count on Organically Green.