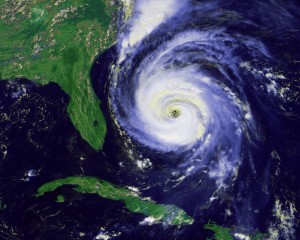 It is hurricane season yet again, and while meteorologists predict a relatively quiet season this year it is important you prepare your yard for the worst. Here are steps you can take to prep your yard for a serious storm to prevent damage to property and most importantly people.
Do Right Now (Before the Storm):
Cut back all trees and weak branches that make contact with your home.
Thin your foliage so wind can flow freely through branches, decreasing the chance that trees/plants will be uprooted.
Place tree trimmings at curb side on your regular scheduled collection day and follow the 6/40 rule (i.e., each pieces cannot not exceed 6 feet in length or 40 lbs. in weight) and must be clear of any obstructions.
Containerize your tree trimmings such as pine needles, leaves, twigs, etc. in plastic bags.
Clean your yard of any items that could become missiles in a storm such as broken lawn furniture, etc.
Once A Storm Warning Has Been Issued:
Do not cut down trees or do any major yard work.
Do not begin construction projects that produce debris.
Do not trim vegetation of any kind.  Municipalities will need all the collection vehicles at the ready to remove storm damage.
Do not place materials at the curb or take materials to the landfill or transfer facility during a Watch or Warning period. Services may be suspended and facilities closed early to prepare for the storm. Loose debris can cause more damage.
After The Storm
Be Patient. Following a storm a town's top priority is the collection of household garbage. Uncollected garbage attracts pests and contributes to the spread of disease. Garbage should never be mixed with vegetation or storm debris, which can wait for pick up.
Please keep all household garbage, recycling, vegetation and storm debris separate!
Securely containerize all household garbage in plastic bags.
Never place any debris near or on a fence, mailbox, power line equipment, water hydrants, poles, transformers, downed wires, water meters, or storm drains. Hidden electrical hazards can injure or kill collection personnel.
Be careful of unlicensed contractors willing to do non emergency tree work in your yard. Many scam artists take deposits and never return to do the work. Only work with licensed professionals.
If you have an emergency such as a fallen tree on a home or powerlines call the electric company or town.
If you see fallen branches on electrical wires report it to the electric company. Do not try to remove yourself!