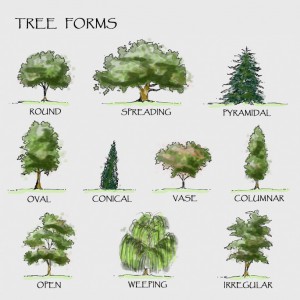 Landscape designs can be as unique as the individual themselves. There are many types of trees to fit any style or aesthetic.  Just as important as finding the right type of tree for your climate, choosing the right shape of tree can make all the difference.
Here is a basic guide to tree shapes.
If you are looking for height and drama, columnar shaped trees are for you. Columnar trees are tall and very thin, with upright branches. They provide great screening without taking up much room in the landscape.
Examples: Italian cypress, Lombardy poplar, pyramid oak, Emerald Green Arborvitae.
Pyramidal or Conical Shaped Trees
If you are a fan of Christmas trees this is the type of tree for you. Pyramidal trees are wider at the bottom, with a main center trunk and horizontal branches. Conical trees are similar but are usually more slender and bullet-shaped. These trees are very dramatic and need space to reach their full width.
Examples: blue spruce, Fraser fir, pin oak, western red cedar.
Round or Oval Shaped Trees
If you are more of a traditionalist, round or oval-shaped trees will be right for you. These shade-giving trees are upright, with a central strong trunk that branches into a dense round or oval-shaped crown.
Examples: sugar maple, Bradford pear, white ash, sourwood.
Spreading or Open Shaped Trees
Spreading or open shaped trees are perfect for the romantic. These trees have an open, irregular shape that may be wider than it is tall. In design, they are used to soften buildings.
Examples: cherry, dogwood, ginkgo, mimosa.
For those with a whimsical taste, weeping trees offer a sense of drama and make great accent trees. They have flexible, long branches that hang down and may even touch the ground. Weeping trees should not be planted near walkways or streets where the hanging branches would get in the way.
Examples: weeping willow, weeping cherry, weeping mulberry.